In this audit I will analyse the performance of the valucomputers.co.uk website (yes that is value without the e!), to see how it could improve its Google rankings with some quick fixes.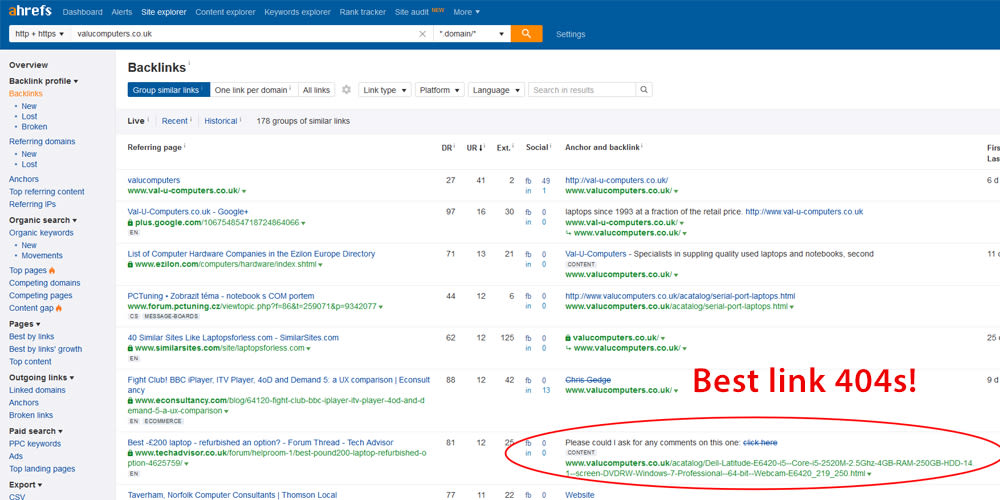 Poor Backlink Profile + Broken Links
The inbound links to the Valuecomputers.co.uk website are very poor, with the majority of links consisting low level scraper spam such as keyword suggest and pr log.
For a competitive niche such as buying laptops online, this website really needs more link authority to stand a chance of ranking for competitive keywords.
And they've also committed the number 1 SEO cardinal syn:
Their most powerful link goes to a 404 page!
This link from techadvisor.co.uk (DR 81) goes to a product page that's no longer available, meaning that they lose all of that links power.
They should redirect this page back to the homepage or a relevant product / category page to maintain the link authority, and use internal links to spread this to the most important pages of the site.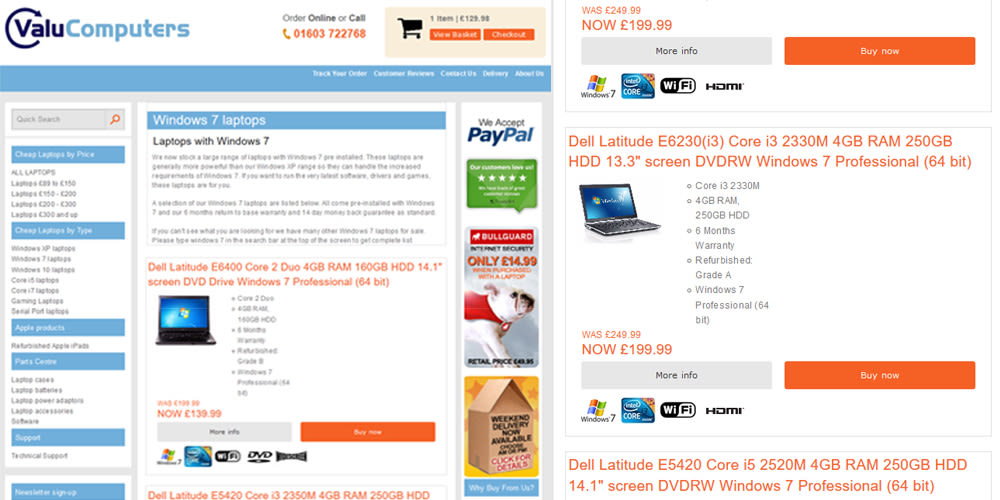 Old Style Website Untrustworthy
The website is built on Seller Deck, formally known as Actinic, which has left them with a very outdated template and clunky site design.
For maximum conversions you need customers to feel comfortable on your website and be fully trusting of your site and company. Having an old style website such as this could make potential customers think twice about purchasing, and any friction like this in the buying process will lead to lost sales.
Even a slightly lower conversion rate because of this could end up costing the company tens of thousands of pounds over the course of a year, and so upgrading to a modern template or a different CMS should be done asap.

Missing Basic On Page SEO on All Pages
This website is missing out on some seriously fundamental bits of information that Google relies on to rank websites.
For example none of the category pages have a H1 header on them, which is one of the key pieces to optimise for ranking within Google.
Also none of the product pages have schema.org markup for Product on them, meaning they miss out on the rich snippet including price, in stock, and review rating stars.
As many of these will be template issues, upgrading / migrating to a new template will probably fix these with minimal manual input required, however manually being able to overide H1 headers for category pages can be a great way to avoid over optimisation and add extra keywords whilst keeping things like breadcrumbs and menu links shorter.
Final Thoughts
The main keyword that will bring this website significantly more traffic will be "cheap laptops" or something along those lines, which will probably be targeted by the homepage, and therefore the meta information and on site optimisation should reflect this by avoiding cannibalisation and using internal linking.
They should also start creating news and guide articles around the topic on a regular basis, which could then internally link back to the main shopping pages.
A combination of these tactics would drastically improve their monthly traffic and increase sales.
We are sorry that this post was not useful for you!
Let us improve this post!
Tell us how we can improve this post?