Last Updated on June 3, 2019
Internal linking can help push power to pages you want to rank.
The end goal is to rank your categories and products higher, for more phrases to generate more sales for your store.
But to do that it needs to be done properly, so let's begin.
What is an internal link?
There are two types of links on a page, internal links and external links.
And internal link simply means a link that takes you to a page on that same website, as opposed to an external link which navigates you to a page on a different website.
The Benefits of Internal Linking on Ecommerce Websites
Sometimes this strategy may seem like overkill, but it can actually provide with significant benefits.
The number of internal links going into a page shows Google how much of a priority it is. The anchor text and page topic of those links helps to inform Google of the relevant topic that the page is about.
Smart internal linking will help you to rank your most important pages with less external SEO investment.
Existing Internal Linking Structure
It's often helpful to analyse the current structure of your website, to see which pages are being prioritised in Googles eyes.
This can be done by visiting the Google Search Console, clicking on the Search Traffic drop down, and clicking on internal linking.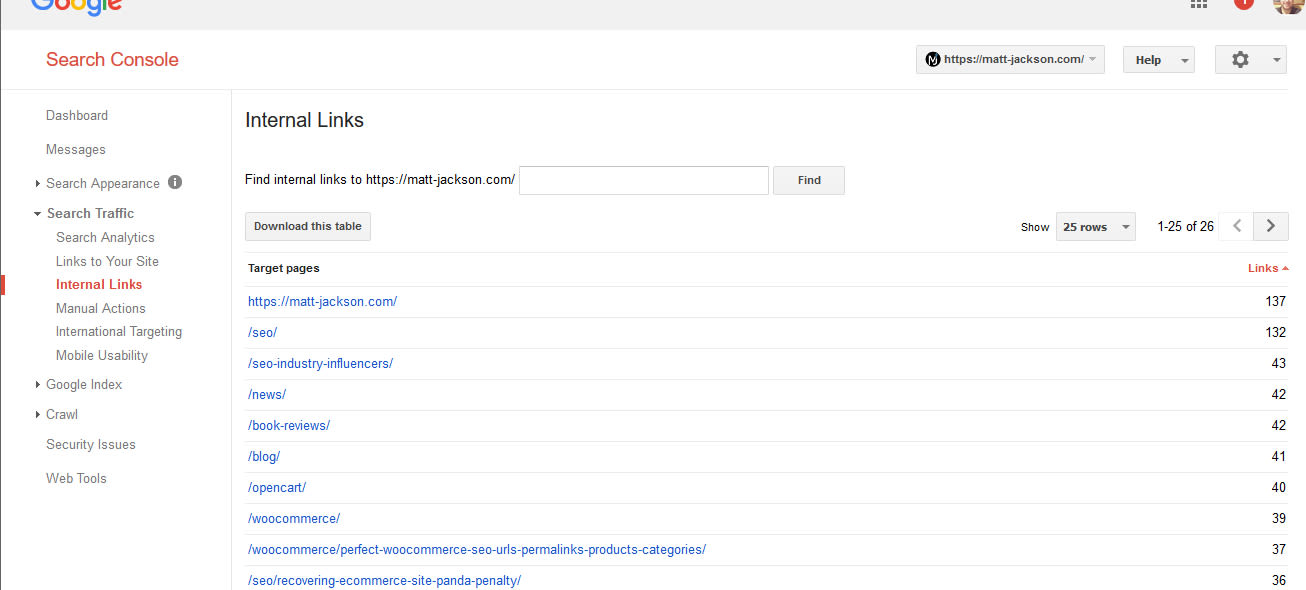 Here you can see all of the pages that you link to within your site by order of links, and it should contain a list of your most important pages (categories and products).
Types of Internal Link
There are various places that you can link to other pages on your website:
Navigation links: these are your menu links, helping users to locate the content they want.
Footer links: these are often used by SEOs to link to pages that aren't appropriate in the navigation bar, and are often discounted by Google.
Sidebar links: these are usually repeated fairly often across your site, often used to promote offers and other related content.
Contextual links: these are links contained within the unique content of the page itself, for example a category description.
In this guide we will focus on contextual links, as these can make the biggest difference to your stores immediate rankings.
Specific Ecommerce Internal Linking Tactics
Here are the different types of internal linking that will benefit the rankings of your ecommerce store.
Finding Pages with Link Equity
The pages with the best inbound links will be able to provide more power to your sub-pages via internal linking.
Therefore we want to list our most powerful pages, and link them to our most important pages (the ones we want to rank).
In ahrefs, this can be done by putting your site into the Site Explorer tool, and selecting "Best by links" in the left column.

Anchor Text for Internal Links
Like inbound links, internal links anchor text should not be overused.
On an ecommerce site you will often already have plenty of exact match internal links from your navigation, breadcrumbs and category lists, so it's important to use long tail variations and synonyms to diversify your internal anchor text.
While there is no specific ratio to follow, simply be descriptive with your anchor text, for example instead of "hd tvs" you could use "shop our best selection of televisions in high definition here".
Where to Add Internal Links on Ecommerce Websites
There are various locations, other than the navigation, footer, sidebars and breadcrumbs, where you can add internal links.
1. Relevant Blog Posts / Informational Pages
There is a good chance that you're regularly producing industry relevant content, and / or have relevant information pages about your products or services on your website.
Within this content you can add internal links, to important and relevant categories and product pages.
2. Category Page Descriptions
A good category page contains lots of relevant text and information about the product type, and can also include some great internal links to top products and other categories.
You may have product comparison pages, lists of best buys, or sale pages, all of which could benefit from the internal links on this page.
3. Product Descriptions
Adding links to the product descriptions isn't always appropriate. Often the user only needs to see related products below this, in case they want a different product after browsing.
However there are some situations where adding links to similar variations of the product, for example different colours and specifications, or perhaps good bundles, could be both relevant and good for rankings.
Avoiding Keyword Cannibalisation
While using a diverse range of anchor text internally is good, you don't want to slip into confusing Google about the topic of the page.
Make sure to only use the specific phrase that describes your category or product, otherwise you can end up with what's known as keyword cannibalisation (more info here).
If you have any questions, or require any help with your ecommerce internal linking, feel free to email me at info@matt-jackson.com.
We are sorry that this post was not useful for you!
Let us improve this post!
Tell us how we can improve this post?