Last Updated on December 14, 2017
While this question of "how long will a new domain take to rank" has many contributing factors, the simple answer is:
1 year
However there are obviously contributing factors that could both increase and decrease the time it takes to rank a website, such as:
keyword competition – how competitive are the terms you wish to rank for.
inbound links – the number and authority of links to your website.
direct traffic – visitors directly typing your website into their browser.
brand signals – the number of people searching for your brand / website in Google.
social buzz – the number of mentions and referral visitors you get from social media.
growth of the site – how quickly the number of quality pages grows on your website.
However it seems that Google likes to wait roughly 1 year before allowing a fresh domain name to rank within Google for any reasonable volume keyword, with domains being "sandboxed" for 12 months and then popping up in rankings without any other SEO being performed on the website.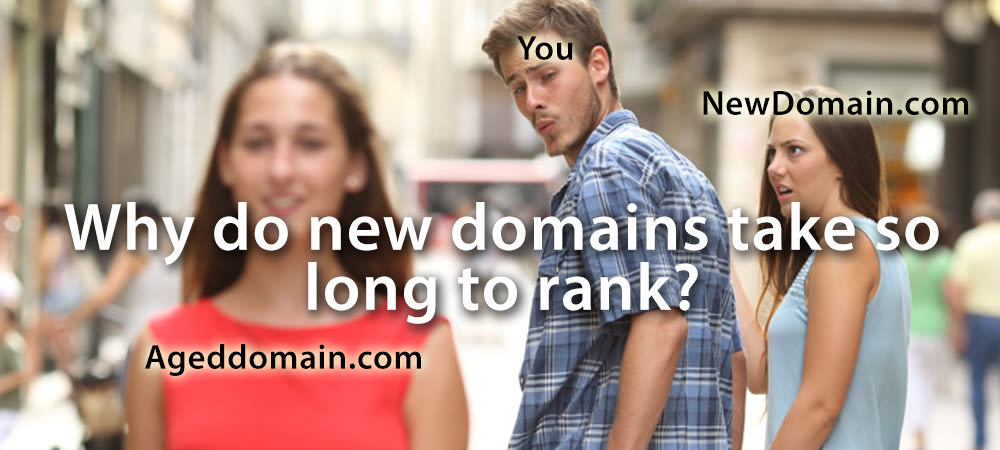 Why does Google make it harder for new websites?
This is actually fairly obvious when you think about what Google's goals are.
Google wants to provide the best experience possible for the people who search within its system. That means providing websites that have proven both to help users, and to remain consistent over time.
What an aged website has over a new domain
The features that Google likes about old domains in comparison to new domains are:
A history of serving users: they have shown over time that they are providing the user with something that is at least slightly relevant to the topic.
Consistency: Google crawls websites regularly, and so it understands that an older website has been the same for many years, and therefore trusts that the publisher will not drastically change it any time soon.
What can you do to combat this problem?
There are plenty of things that you can do to try and get a new website ranking more quickly.
You could buy a related expired domain from a website auction site that's still indexed within Google instead of using a fresh domain. This means that you retain the website age, and therefore avoid the 1 year sandbox. You must first check to make sure it hasn't been previously spammed or penalised.
Or alternatively you can plan your projects 1 year in advance, register and host the domain name with a few basic pages about the topic, and leave it dormant for a year before you use it. While this requires a bit of planning, if you understand roughly what you want to be doing it can help to avoid some of these issues.
What next?
If you're struggling to rank your new domain then you can always email me for some advice (info@matt-jackson.com), or book an audit.
We are sorry that this post was not useful for you!
Let us improve this post!
Tell us how we can improve this post?