Last Updated on July 8, 2020
I'm back with another ecommerce SEO audit, this time for a biking ecommerce store called "Upgrade Bikes", to see how they could improve their store rankings with a few simple SEO changes.
Let's get started.
Categories Missing Basic On Page Optimisation
When you want to scale, it's important to get the basics right across the site, to then fine tune your optimisation on a page by page basis.
The Upgrade Bikes website is missing H1's on every single category page.
A template based error, that should definitely be fixed, as the H1 is the 2nd/3rd most important on page signal, after Page Title and before/after URL depending on who you ask.
Furthermore, there are no optimised category descriptions or Page Titles on any general category pages that aren't brands.
This is hurting them badly, as Google has nothing else to read on the page but product names.
Fixing these basic issues will go a long way to improving the quality and rankings of the site.
Missing Product Schema.org Code
Schema.org code on product pages helps to get a larger snippet in search results that includes product data, and improves click through rate (which directly improves rankings).
The Upgrade Bikes website isn't using any schema.org on the Product pages.

Fixing this is another essential change I'd recommend.
662 Broken Backlinks
Backlinks going to 404 error pages aren't counted towards your rankings.
The Upgrade Bikes site has 662 reported backlinks in Ahrefs that are broken.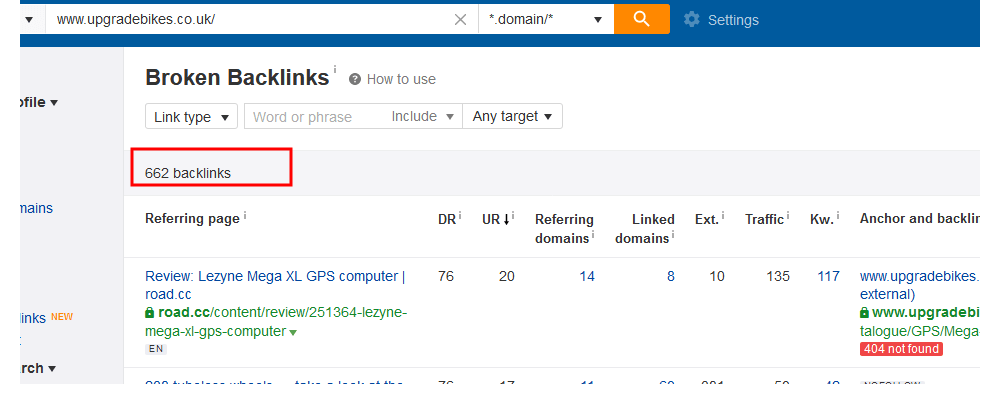 Reclaming these through 301 redirects will result in greater authority and higher rankings.
There may well be a lot more issues than this, I have simply scratched the surface.
Not Clear? Ask Me
If you have any questions about the above info, then feel free to drop a comment or email me at info@matt-jackson.com
My paid audit services regularly help companies to improve their website rankings, identifying major->minor problems and glaring opportunities to dominate in search results for even the most competitive keywords.
We are sorry that this post was not useful for you!
Let us improve this post!
Tell us how we can improve this post?