Last Updated on November 26, 2019
You're small, a new website, but you've got big dreams!
You want to take on the Guardian, Wikipedia, and every Gov site on the planet.
While there's nothing wrong with that, you've got to be realistic with what you're targeting, based on your current domain rating.
Links Make Rankings Possible
Contrary to some popular opinion, you can't rank websites in Google with no links for competitive phrases.
Which means that to some extent, a site's ability to rank is limited by the links it has and can get in the near future.
If you want to rank for best loans, you aren't going to do it with a brand new site with 80 referring domains. The average DR in that SERP is 60, and the top 2 results have ~ 3,000 inbound links to those specific pages between them, earned and built over a number of years in the space.
But there may be ways you can still gain traffic in your industry, by fine tuning your SEO efforts.
Low DR? Focus Your Strengths
Now if you've got a lower authority website, but you still want to get traffic in competitive industries, then the key is to generate pages that serve the user intent really well for longer tail phrases.
These will have lower volume, but also less competition (usually), which will make them easier to rank for, and require less investment from a new website.
This also means looking at your product line objectively, and asking the key questions:
Price – which

product

lines are we price

competitive

on?
Quality – which

product

lines do we offer that are over and above market quality expectations?
Unique – which

product

lines do we offer that are very unique?
Most companies will start to realise that they only excel in a certain area of their product catalogue, which will be the #1 focus from an SEO perspective, as it means they will benefit from good user related ranking signals, and better conversion statistics (all generating better ROI).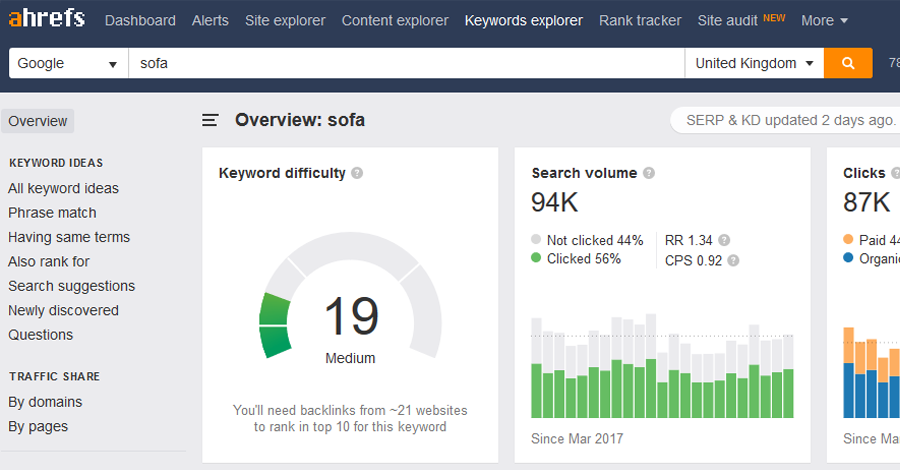 This is one of the hidden reasons why big brands can often rank for so many keywords, because they have the depth of product offering to serve a larger variety of customers, which means their user signals are good, and they can capture those top spots with very little page specific links.
Example:
Product

Type – Sofa (94,000 spm, Difficulty of 19 – questionable stat there).
Focus – Leather Corner Sofas (1,300 spm, Difficulty 3)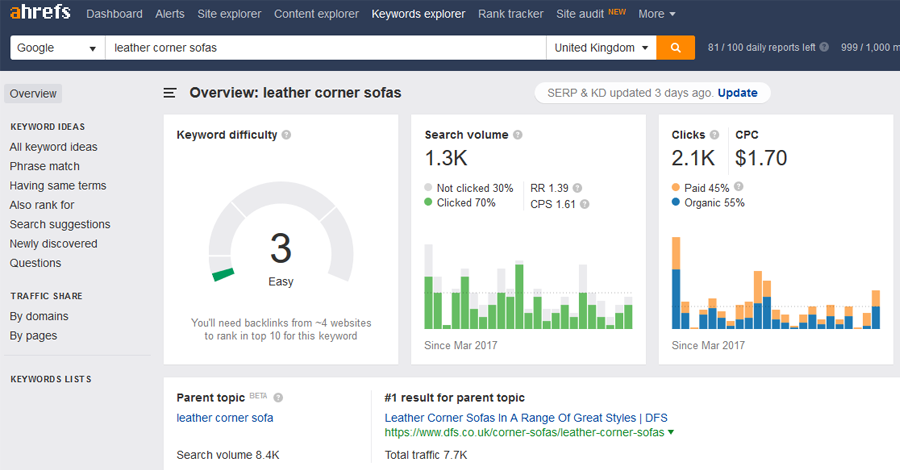 In the example above, a new website will have to work very hard for years to rank for the main keywords around sofas (buy sofas, etc), whereas if they structure their site correctly, and focus their link building efforts (internal and external) on the focus area of Leather Corner Sofas, then they are much more likely to succeed.
How to Structure A Focused Site?
This is very tricky, as if you specialise your category structure now, then later on it will require a big overhall with a lot of 301 redirects to migrate you onto a broader focused plan.
One way you can get around this is by building a micro site around your focus product types.
You can see evidence of this across many different niches, and it is effectively building an affiliate site (a site that sends traffic through links back to your main website) except there is no 3rd party involved.
Here you can use exact match or partial match domains, and do some basic link building and good on page SEO, to build out a property that serves the user well, and is also hyper specific in Google's eyes.
Example: Leather Corner Sofas
Using the previous example, I have found this domain ready to reg: leathercornersofas.co.uk

You could turn this into a "catalogue" style site, with pages for each product variation (based on keyword research), and blog posts to target information queries hyper specific to the topic (ie how to clean a leather sofa).
Link building would involve basic social profiles, business directories, and guest posts on hyper specific sites to do with interior design, or working with leather.
New Domains – Take Time to See Results
It always takes a long time for new domains to start ranking in Google, and these will be no different.
And while you're working on your micro site, you should also be performing SEO on your main website, with the aim of making that your primary focus in 12 – 18 months time.
The micro site will almost always start to rank before your more broader focused ecommerce site will, and it's more likely to keep the top spot because it is perfectly targeted on the keyword.
We are sorry that this post was not useful for you!
Let us improve this post!
Tell us how we can improve this post?