Your secret weapon for online success

Online marketing for small businesses in Sheffield
We help you blindside your online competition, driving more people and sales through your online properties, adding to your business's bottom line.
Fill out the form below to get started today.
Or call: 0114 319 7899
Helping businesses grow through digital channels. Preparing you for future changes to your market.
Latest posts by Matt Jackson (see all)
Matt Jackson: Online Marketing Services from an SEO Expert
9 Hillfoot Court Sheffield, South Yorkshire S174AZ
Opening hours:
Monday – Friday > 8:00 am – 6:00 pm
Weekends > Closed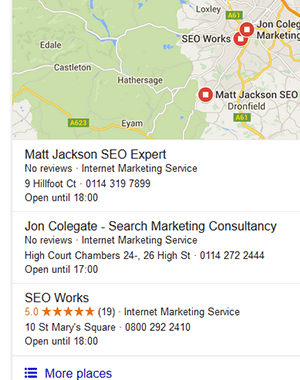 Online marketing isn't for me, noone Googles my product or service
This is the most common mistake made among small businesses in 2016.
The search volumes for service based local industries are large, and growing every day. You're potentially missing out on thousands of customers a month, simply because you think "people aren't online".
Contact us today and I will tell you for free how many customers are searching for your product or service.
Simply email info@matt-jackson.com, or call 0114 319 7899
SEO: Traffic from Search Engines (Google, Bing & Yahoo)
The majority of people use Google, and so this is where we concentrate our SEO efforts. Below outlines the different areas within Google, with an explanation for each.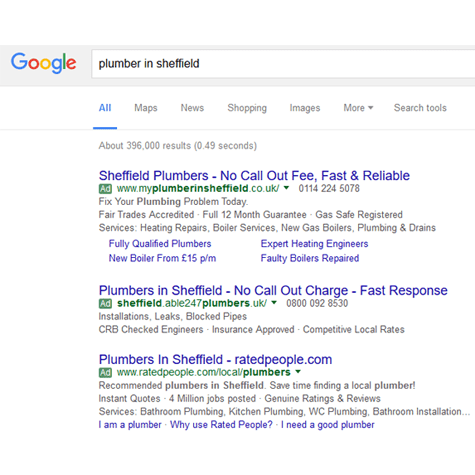 Part 1: Paid Adverts (PPC)
Many people believe that Google contains all paid listings, but actually only the part at the top is paid advertising, the rest is free!
These paid links show up at the top of the results.
They are often labelled with a different colour (either Yellow or Green).
Businesses bid per click, paying a certain amount each time a user clicks their link.
This can get expensive, ending up in a race to the bottom.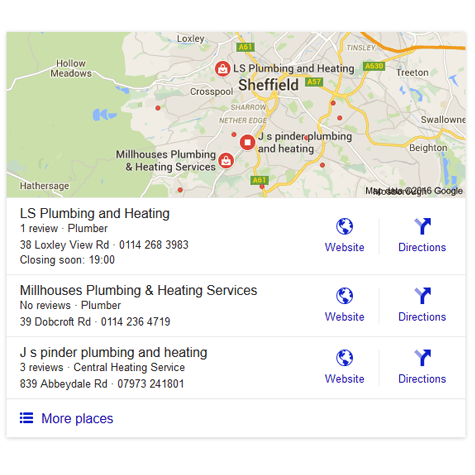 Part 2: Map Listings (Google Local)
These are important for local businesses, that have customers in a certain area. They require a claimed Google My Business listing, which is FREE.
Allows customers to call or get directions right from Google.
Free with Google My Business listing.
Influenced by reviews and business details.
Local SEO services make you rank higher (get more customers).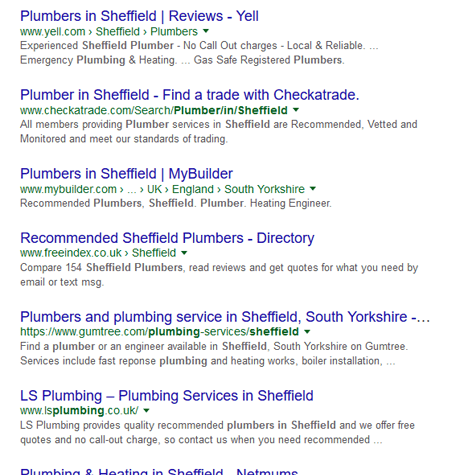 Part 3: Natural Listings (Google Organic)
This is the main target of SEO, helping your website rank more highly for your search terms. The main influences here are inbound links, social media, and user experience signals.
Main free Google listings.
Rank higher with SEO services.
Links directly to your website.
Most cost effective strategy.
FAQ's for Sheffield SEO
Here we go over some of the most common questions and requests that we receive at our Sheffield office, form business owners all over South Yorkshire.
How much does SEO cost?
Depending on who you purchase from the cost of SEO can vary a lot, but for an agency services normally start around £300 per month, and for a consultant they can be a little less starting around £250 per month.
The benefit of using a consultant is there are less hard costs involved, are agencies have to pay for employees, premises etc, whereas a consultant can spend more of your budget on actually achieving the work.
Do you do SEO packages?
SEO packages are interesting, as they aren't really a very good way of displaying the tasks needed for an SEO campaign. As each situation will be so specific to you industry, and the level of competition in your area, packages cannot truly reflect the potential cost, and therefore we always recommend a custom quotation for campaigns.
Are SEO services safe?
Search engine optimisation is as safe as the person performing it. If they are sloppy, or rushing things, then they can create footprints which the algorithm may penalise you for. In general, practicing SEO onto a website is safe, and will do it no harm, unless you perform spam link building or keyword stuffing practices.
Do you do white-hat, ethical, Google safe SEO?
This is a common miss-conception, the difference between white-hat and black-hat SEO, and whether one way is ethical and safe for Google.

The truth is, all SEO is against Google's terms of service, so therefore all SEO is techinically unethical. But by the same standards, when you sneak your own popcorn into the cinema instead of buying from the premises is technically unethical, it all depends on your moral compass.
We prefer to give the power back to small businesses, helping them outperform their larger rivals with a fraction of the budget, by any means necessary.
How long does SEO normally take?
This again varies depending on how competitive the industry is. The more websites actively performing SEO to their sites in the top 10, the more competitive it will be. The most competitive industries online nationally are payday loans, gambling, and affiliate spaces, whereas locally they tend to be locksmiths, plumbers, and roofing contractors.
How has SEO changed now we're in 2016?
Below is a great video by Josh Bachynski, where he outlines the changes as we move through 2016 and beyond, including schema.org structured data, click through rate optimisation, and the importance of brand reputation on Google search results.
What is Local SEO?
Local SEO involves optimising a website and business listing in maps to appear highly for locally relevant keywords, such as plumber in Sheffield.
This can involve local link building, implementing local business information such as schema.org markup, and making sure all business citations have consistent information on them.
What is online marketing?
Online marketing covers not just SEO, but social media, video, and paid advertising. It basically covers all online media platforms, where a business might be able to market it's product to a potential consumer.
What areas to you cover in South Yorkshire?
As we can perform SEO remotely, we operate in Sheffield but serve all areas of South Yorkshire from the Peak District, to Meadowhall, Rotheram to the Millhouses.
Are you a consultant, and agency, an expert or a business?
I am Matt Jackson, and I am the director of JP Digital Enterprises LTD, along with fellow director Andrew Porwol. We provide SEO consulting services, as well as offline marketing, business positioning, and other services, which can fulfill the role of an agency, expert, or consultant, depending on your needs.