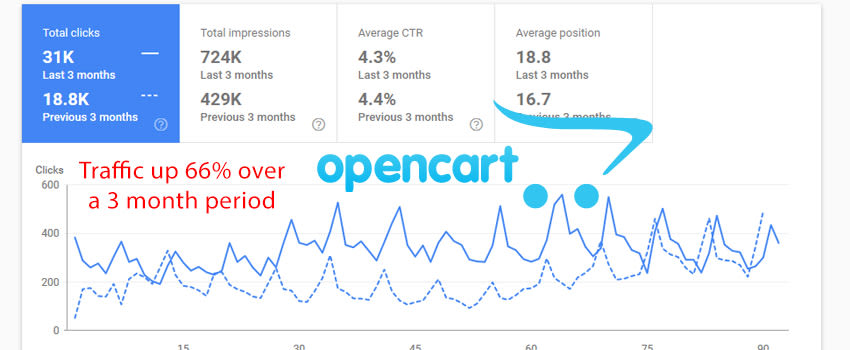 Experienced Opencart SEO Consultant
I've been there and done just about everything on an Opencart website, and I can help you improve the Google rankings of your store.
I can offer the following Opencart SEO services:
SEO audits – identifying the problems on your site, documenting them, and delivering you the results with advice for fixing them.
SEO services – a full site diagnosis, along with a long term implementation plan that includes both on site and off site SEO.
Opencart migration services – I can help you migrate to or away from the Opencart platform while minimising any damage to your SEO.
Opencart upgrades – I can assist you in upgrading your Opencart CMS, to ensure important SEO factors aren't lost.
Is there anything you need not listed? Email me at info@matt-jackson.com
Opencart SEO Problems
Some of the common problems with a default Opencart installation are:
Lack of proper canonicals – there are often lots of incorrect versions of urls being indexed that harm your rankings.
Filters and other Variables – often the robots.txt isn't blocking filter pages, resulting in potential Panda penalties.
Site speed – out of the box Opencart can be very slow, which seriously harms your engagement signals and Google rankings.
This isn't an endless list, but you can browse my Opencart related SEO blog posts here.
Opencart SEO Results
I can achieve a good ROI on SEO services for almost any website.
I have made minor technical changes on some sites that have resulted in huge spikes of traffic and sales.
SEO results depend on a whole host of factors, including technical, on page, user experience, and inbound links.
You can see updated client ranking evidence on my results page here.
What does a typical Opencart SEO Service look like?
I get this question a lot, so here is an average SEO breakdown for a website over a 6 – 12 month period:
Month 1: SEO Audit & Opportunity Report – this report outlines all of the technical, on page, user experience, and link building problems, gaps and opportunities. Delivered in full, with relevant accompanying documents.
Month 2: Implementing Technical & On page changes –  the next stage is to put into action the recommendations made in month 1. This can involve collaborations with your development team where appropriate. This may extend into month 3 if there are a lot of changes / your budget doesn't allow for full implementation.
Month 3 – 12: Links, Supplemental Content & Ongoing On Page – the next stage is to build the domain authority of the site, by soliciting authority and niche relevant inbound links for all of the relevant pages. This period will also include creating supplemental content around your topic, to help capture higher funnel traffic. There will also be monitoring and fine tuning of the on page to generate the best results possible.
How much will a typical Opencart SEO service cost?
A typical service will range between £450 – £850 per month, depending on the scale of the site and the competitiveness of the industry.
I can offer one off fees for set deliverables, or hour to hour consulting if you only need advice.
How do I get started with your services?
Just email me the details of your site and what you want to achieve, and we can go from there: info@matt-jackson.com
I look forward to helping you achieve great results.