Updated: 04/04/2023
The following Google Search Console and Analytics data shows the growth resulting from my SEO services for their Shopify e-commerce store in the UK appliances industry: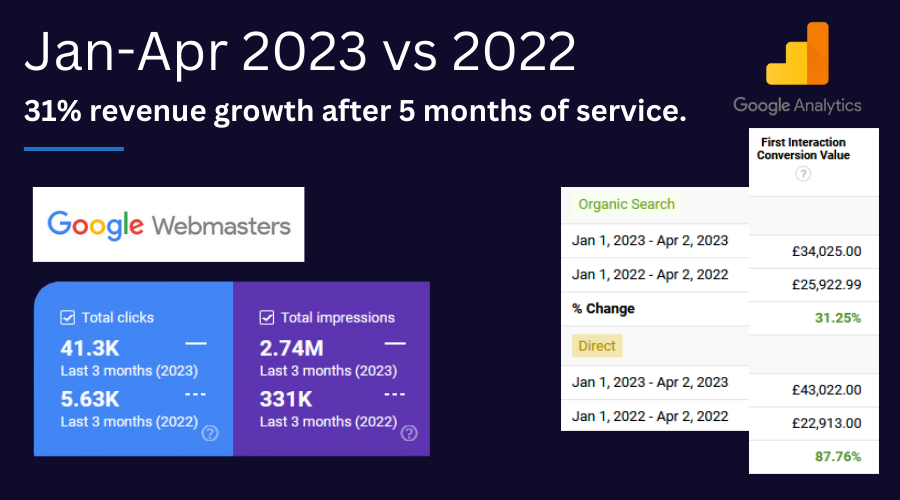 Highlights
CMS: Shopify
Approximate budget: £1,500 – £2,000 p/m
Duration: 5 months
Revenue: 31% year-over-year revenue growth (Jan-Apr 2023 vs 2022).
Clicks: 7.3x click increases directly from SEO.
Details
Tasks performed:
Technical SEO audits and fixes
Improving entity reputation
On page optimisation of important collections and products
Keyword GAP analysis
Content marketing
Impact:
31% e-commerce revenue growth Jan-Apr 2023 vs 2022.
Worked on a hybrid SEO model allowing them to also monetise via ads.
7.3x click improvements from SEO Jan-Apr 2023 vs 2022.
Page 1 for all major product terms, including the most competitive 2 word phrase.
Long term content plan for clear ongoing growth trajectory.
Competitive niches are always exciting to work in, and I'm happy to be able to call this an excellent success story, helping them achieve page 1 rankings for one of their most out-of-reach keywords.
____