Last Updated on September 24, 2018
In this ecommerce audit we will look into the website for Jack Wolfskin within the UK (jack-wolfskin.co.uk). They're a large outdoor clothing brand, with websites across many different countries.
The majority of their traffic comes from branded terms, and their SEO could be so much better if they made a few changes.
We will go into these changes below.
Category Pages have no H1 Tags
Now I've spoken before about how the category pages can make up a significant amount of traffic for your site.
And in this instance Jack Wolfskin have missed the mark, with none of their category pages having a single h1 tag on the page.
The titles are marked up as paragraph tags:
<

p

 

class

="category-banner-name">Men Softshell jackets</

p

>
This is a template based error, probably as a result of adding this category banner text overlay, and should be fixed to improve the rankings across the category pages.

Over Optimised Title Tags on Categories
Another issue I found was the overuse of keywords within the title tags of their category pages.
Now contrary to popular belief, spamming your main keyword multiple times in your title isn't actually the best way to go.
In my tests they had multiple pages with titles such as "Men's KEYWORD – Buy KEYWORD – Jack Wolfskin", which is too much for one tag.
A better variation for a page such as the men's softshell jacket page would be something with synonyms in, for example the current number 1 ranking page has "Softshell Jackets and Water Resistant Coats | GO Outdoors".
They have most likely auto generated their title tags using a template, and so the keyword insertion makes sense because they won't have gone page by page to look at synonyms and sub-category keywords to optimise for.
I would advise them to start with their top 10 categories and go in and granularly optimise each one.
Poor Use of Filters Within Category Pages
Filters are great on category pages. They help us to navigate to the sub-variety of a product type to make comparisons easier, as decision fatigue is common when there are large volumes to compare.
The Jack Wolfskin category pages are showing an expanded list of all of their category links in the sidebar, which bumps their filter too far down the page. This could definitely impact their user engagement signals and result in worse rankings and less sales.
A much better way of laying this out would be to have the category list removed or minimised. There are already breadcrumbs at the top of the page for simple navigation, and at this stage in the buying process the filters are far more important.
This would bring the filters up much higher, and providing a better experience. Also incidentally it's exactly how the GoOutdoors category pages are structured.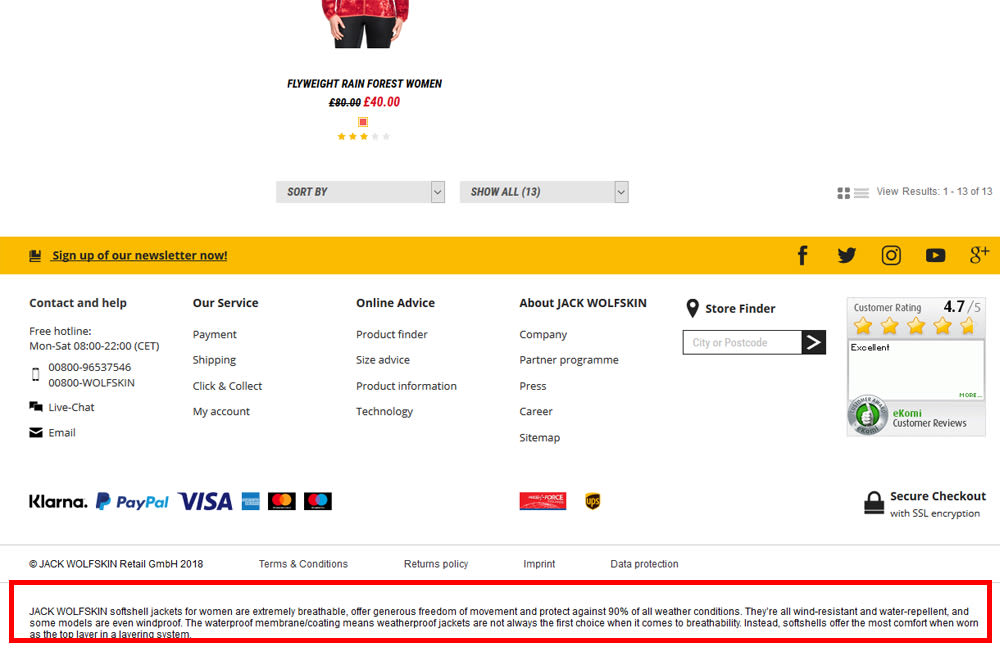 Google is very good at deciding where the unique content of a page is. However Jack Wolfskin is attempting to add content below the footer on category pages as a way to add more unique content to the page.
This isn't the best practice, as it may be ignored by Google as they scan for new content due to it being outside of the main content area. I would recommend this to be inserted just above the footer, and perhaps adding a few hundred extra words of relevant content wouldn't be a bad idea either!
Final Thoughts
This website has a great backlink profile, and tonnes of brand searches to give it relevance and authority within Google.
However they are missing out on so much non-branded organic traffic from making these simple mistakes.
Do you need an in-depth audit of your website? Consider a custom audit to take the guesswork out of ecommerce SEO.
We are sorry that this post was not useful for you!
Let us improve this post!
Tell us how we can improve this post?