Last Updated on January 17, 2018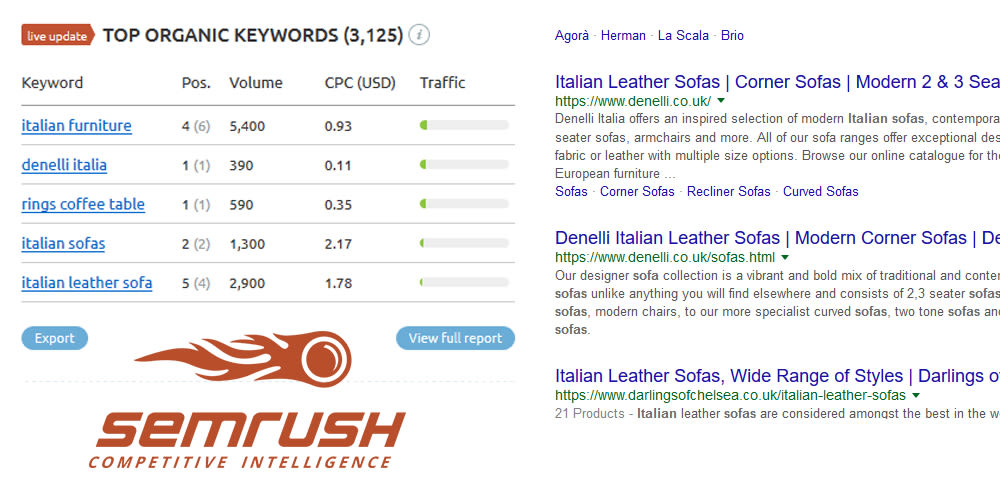 Clear Keyword Cannibalisation
Now this website was penalised in 2012 most likely by the Penguin algorithm, but has been making a good comeback in the last 12 months.
However their keyword targeting is leaving them missing out on important traffic, with plenty of examples of keyword cannibalisation going on.
Keyword #1 – Italian Sofas
This keyword, and it's comparable "italian leather sofas" counterpart get roughly 4,200 searches per month combined, and with a niche specific keyword like this they're very well qualified buyers for Denelli.
However Denelli.co.uk actually has two pages targeting this keyword, leading to them both ranking less than if they had one targeting that keyword. They have both their homepage, and their Sofas category optimised for it, and they rank in position 3 & 4 respectively.
If they focused on the sofa category for this keyword they should be able to optimise it to rank in position 1.
Keyword #2: Italian Furniture
Now this leads on from the first keyword, because once the homepage is de-optimised for the sofas phrase, it would now be free to target the keyword with a lot of search volume, "Italian Furniture", 5,400 searches per month.
They currently have one of their brand pages ranking in position 4 for this phrase (/brands/alfy.html), which has coincidentally been optimised for this keyword because the brand name is "Alfy Italia Furniture Group", leading to it being in the page title and content.
If the homepage was optimised for this, and the other brand pages de-optimised, it should have the ability to break into the top 2 spots.
Over Optimised Anchors & Weak Links
I referenced the Penguin penalty earlier in this post, and when reviewing the anchors above you can clearly see why. It looks like comment spam gone wrong, which could've been as a result of negative SEO from a competitor or simply a miss guided attempt to rank their own website.
I would definitely advise for these to be disavowed, but by the increase in traffic I am going to presume that the majority have been disavowed already.
The next stage should be to focus on building high quality, niche relevant links to the website.
Currently they have a wide range of local directories, but are lacking in any other authority links. There would be plenty of quick wins, in places such as UK shopping directories and more furniture and Italian related websites.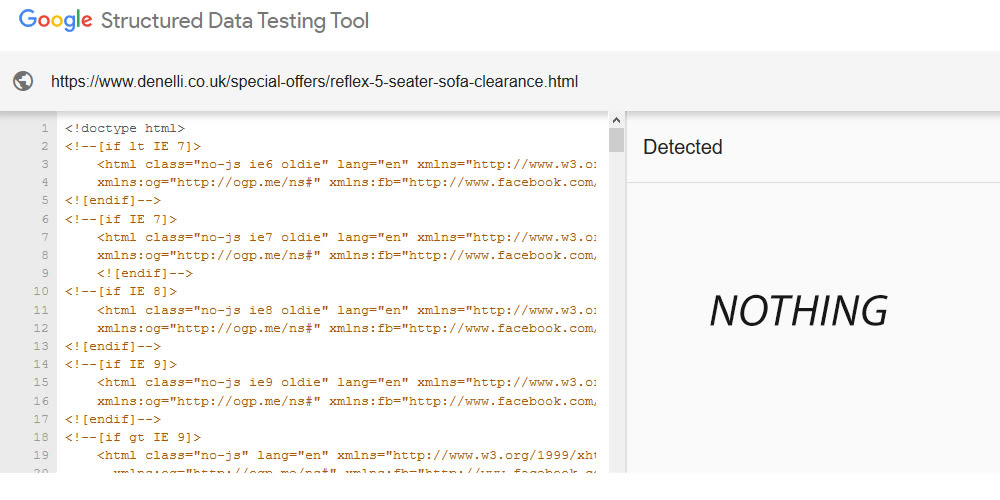 Missing Schema.org Markup on Product Pages
Now this is very basic ecommerce SEO, but even so it's worth mentioning. There is no schema.org markup found by the Google Structured Data Testing Tool on the product page at all.
This is such a simple thing to integrate into Magento, and should be one of the first things this company does to improve the click through rate of their products, and with it the rankings of those pages.
It enables review stars, stock details, and price details within the SERPs.
Final Thoughts
This website is starting to recover nicely, however with these SEO changes their increase in valuable traffic will be even greater, as the domain already has the authority to be ranking in the top 3 for their priority keywords.
We are sorry that this post was not useful for you!
Let us improve this post!
Tell us how we can improve this post?