1st August 2019 – Progress Check
This site has been fairly dormant for a few months, but there was 1 keyword that just hit page 1 (10 searches per month, so nothing impressive).
The focus will now be to adjust the site to get some easier keywords onto page 1 to gain some legitimate traffic.
Moving on from there a proper schema.org and entity relation strategy on the site will be implemented, using either a schema.org plugin or alternatively something like Wordlift.
17th April – New Content Uploaded
The new brand content on the Smart Home Guide is online and submitted to the index.
There is also a new article on Smart Security Systems that's uploaded and submitted.
The internal linking strategy has also been implemented using the auto linking plugin here. This allows us to generate internal links at scale using the name of the page without too much manual effort.
12th March – Restarting the Journey
After a winter hibernation on this project (things have been busy, busy!) I'm back to working on this project to try and create a niche site in the smart home industry.
The site will have some more content added to it in the next few days, with pages for popular brands in the industry, as well as a longer article on smart security.
The next step that will give the site some unique content, will be to order some products and put them to the test! So a Youtube channel and researching popular topics will be the next step, to decide which to prioritise with.
Some basic links need to be built to the site, so I'll do that over the next month.
Considering there are no links and there's barely any content on the site, it's started getting impressions which is a very positive sign!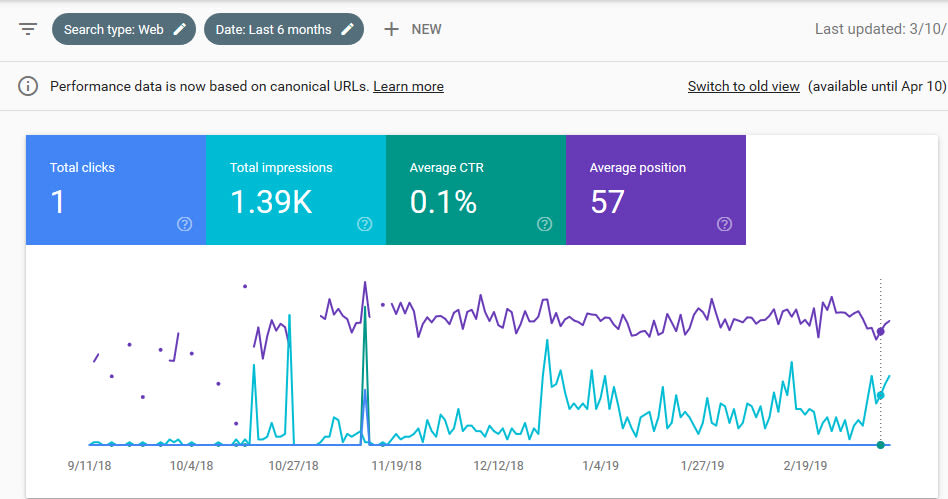 Mobile First Layout and Competitor Link Analysis – 10th September
Now because the majority of the traffic around this term is bound to be on mobile, and with Google moving towards a mobile first index for all queries, it makes sense to build the site to be absolutely awesome to use on mobile.
This means we need a mobile wire frame for how we want each article to be displayed, with simple navigation for mobile users to skip between bits of content without losing track, and also funneling them towards some form of monetisation along the way (we do this to make money right??).
User Intent and Mobile First User Experience
Google is ranking the first page of results mainly based upon user experience signals for competitive queries, so by doing some competitive analysis we can see what mobile users care about the most, and structure our pages accordingly.
For this example, we will use the keyword: Digital Meat Thermometer
Now by doing some basic keyword research, we can come up with a list of sub-keywords and related phrases, to then group into user intent clusters.
So from Google Related, Ahrefs and Semrush, I compiled the following keyword groups:
Synonyms: Temperature probe, Digital meat probe, digital cooking thermometer, electronic meat thermometer, food probe thermometer, meat temperature probe.
Informational: Best, Reviews, How to use, meat temperature probe chart, how to read a meat thermometer.
Where: Oven, Grilling, Fridge, Aga.
Food specific: Chocolate, Milk, Sugar, Jam.
Feature: Wireless, Instant read, Remote, Leave-in, Oven safe, Bluetooth, with probe.
Top brands: Lakeland, Maverick, Weber, Hanson, Thermapen, Souschef, Lavatools Thermowand, Lavatools Javelin Pro, Salter, Oxo good drips leave-in.
Top retailers: Argos, Amazon, Tesco, Asda, Wilko, Sainsburys, John Lewis, Ikea.
Related products: timers, meat thermometers (broad), food thermometer (general.
Countries: Australia, USA.
FAQ's: are digital meat thermometers accurate, can you calibrate digital meat thermometer, how to clean digital meat thermometer, how to test digital meat thermometer, where to put digital meat thermometer in turkey (worrying about under cooking, related to all "pressure holidays" such as thanksgiving, Christmas, Easter, etc).
So from this we can decide how we want our page (and sub-pages) to be displayed, and what information we need to prioritise, along with how it should be categorised.
User Intent 1 – Filter and Buy
If you're in a "ready to buy" state and you want to filter available thermometers by feature and or use, then we can have dedicated pages for the "best instant read meat thermometers" for example. Or alternatively we can use #links to allow users to skip to the section on this feature within the content (depending on how messy that ends up).
User Intent 2 – Unsure Informational Seeker
Those searching for "best" and especially "review" are not quite sure whether this is right for them yet, and so longer form content with pros and cons, and maybe a video or collection of reviews can be used to help make their minds up.
Comparison tables would work well here, with a jam packed introduction to help users to make an educated decision.
User Intent 3 – Problems / Pure Informational Intent
Those looking for brand specific instructions, or in-depth information on how they work or how best to use one, could be moved into an FAQ list with links to detailed articles that explain what they're trying to do. These would provide topical relevance to the main page through internal linking.
There is a real mixture of results when searching for this keyword (informational, reviews, answer boxes and ecommerce) which shows that not everyone is after the same thing, but by combining these user intents into a page layout that navigates users above the fold, we can set our page up to perform well in this SERP.
Competitor Link Analysis – Quick Wins and High Profile Targets
To get started with this industry, we need to know what we're up against in terms of SEO power, and the majority of this comes from inbound links from other websites.
By performing a competitor link audit, we can look for some quick wins that we can get fairly quickly and inexpensively, and also set some long term targets for links which will require a lot more effort and investment to acquire.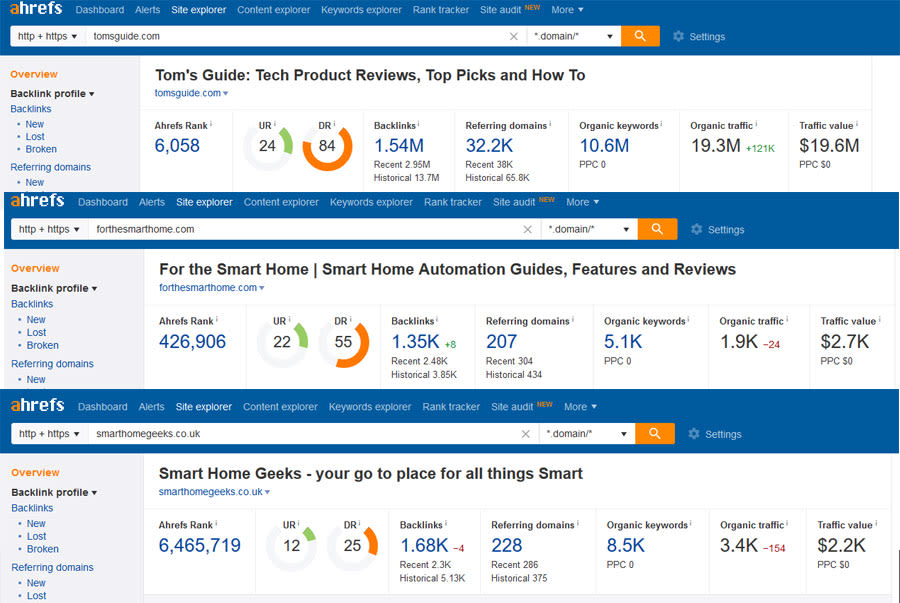 The competitors I will focus on in this analysis are:
tomsguide.com (biggest in the market)
forthesmarthome.com
smarthomegeeks.co.uk
Brands Showcasing PR
This is a classic tactic that I believe was most recently covered by Glen on Detailed.com or Gaps, where you write positive articles about brands linking to them via a nofollow link and then reach out to them to try and get a dofollow link.
We can see examples of this in this niche, with the tech brand Yeti featuring article links on their homepage: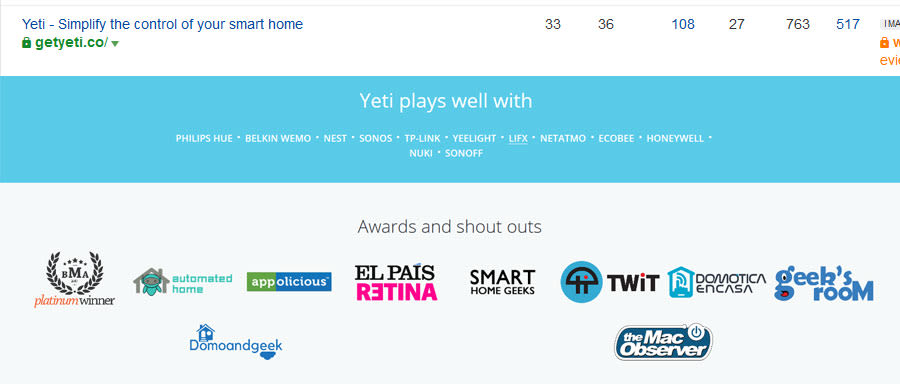 Another example of this can be found here: http://www.litheaudio.com/
Covering New Products and Finding Bugs / Solving Problems
It seems like general home blogs often talk about smart tech in relation to their own projects in interior design, and by regularly talking about and reviewing new products you can get natural links from these bloggers.
One example is here, where the site has talked about a new IKEA range of smart bulbs: https://vizzzion.org/blog/2017/11/ikea-tradfri-first-impressions/
It has also got them featured on Wikipedia: https://en.wikipedia.org/wiki/IKEA which will be a natural place for us to place our links once we have better quality content (and hopefully this will lead to natural editorial links from people researching the topics).
Finding bugs and being the first to reveal them can also be very powerful, attracting a lot of links from people sourcing the story.
Donors and Sponsorships
There is a small amount of evidence that sponsorship links are being used by some sites (example: https://lifeboat.com/ex/donor.dollar.list) and depending on the price and authority these may be worth looking into.
Local Citations
Local citations can often help validate new websites or affiliate websites, and there are some examples of people using that in this niche: http://local.standard.co.uk/company/1057221488926720
Therefore it may be worth looking into a business address for this website.
This will form part of the ongoing link building plan, to be worked on over the next few months.
Social Profiles, Schema.org, Tracking Codes & Indexing – 6th August
Now that the basic content is uploaded, it's time to create the brand pages around the web. Some people call this a "social fortress" others call it securing your entity in Google's eyes, but it boils down to showing Google that you're a real brand.
A website is your vote saying "we are what we say we are", but that's not as trustworthy as multiple authority websites saying "yep we verify this information". This is one of the reasons local citations provide ranking improvements to national companies rankings too.
So creating the basic social profiles for the website is next, including Facebook, Twitter, Youtube, Google+ and Instagram to start with. These are uploaded with a description, website link, and links to other social profiles where appropriate.
These profiles are then linked to from the contact page of the website.
Next we want to create the schema.org Organization markup for the website, which will tell Google who we are, and that these are our social profiles (using the sameAs markup).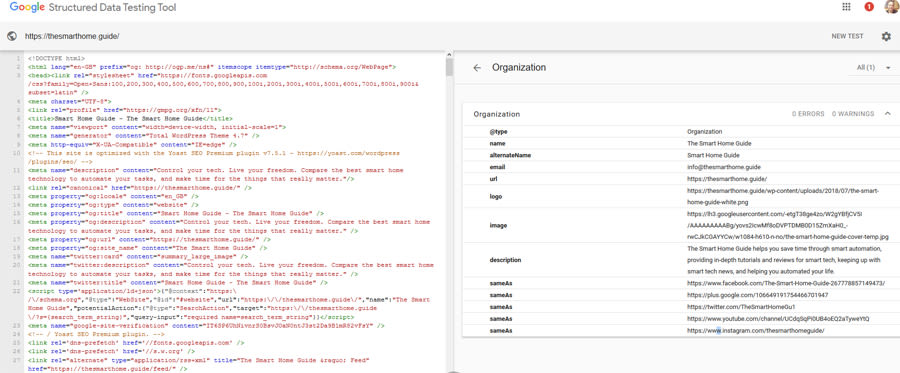 It's important to always verify this in the Structured Data Testing Tool after upload, as sometimes things can go wrong during copy and pasting of code. Also make sure you clear the cache after adding code to the header, as this section is often cached heavily and so it could delay Google picking up the change.
Next it's time to add the tracking codes to the website, including Google Analytics, and the Facebook retargeting pixel. These will become useful for ads, and monitoring user experience on the website.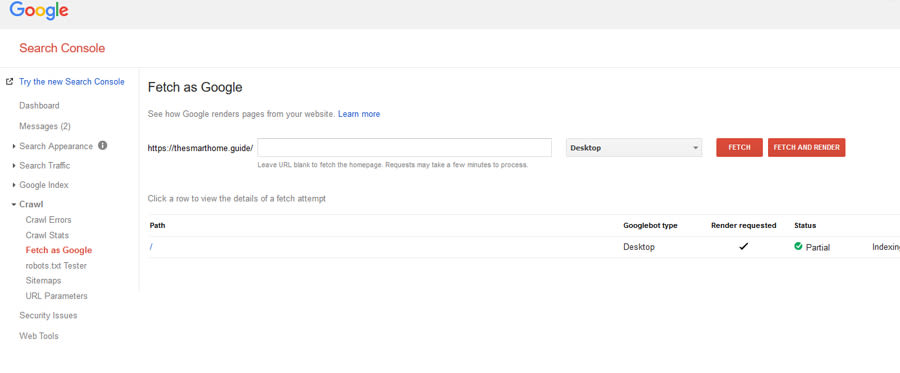 The final step is to create a Google Search Console profile for each variation of the website, selecting the right version in the settings, uploading the sitemap url, and fetching and rendering the site + indexing it.
From here we will let it age in Google's index, before planning more in-depth articles and link building.
Site Shell & Basic Content – 1st August 2018
Now because the site is still brand new, to actually benefit users in any way (and therefore gain any traction in Google) we need some minimal content on the site to get the urls ageing whilst still providing users with some value.
For this, I have decided we will answer the simple question on every page of "what is x", for example "what is a smart plug?". This will be marked up as a H2 tag, with the paragraph below explaining in a concise format what it is.
The aim of this will be to achieve the featured snippet for the question. There are roughly 38 pages to add this content to, so this is an appropriate job to outsource.
Site Structure & Focus Keywords – 10th July 2018
So through some research into the Smart Tech industry, looking at competitors (both ecommerce and affiliate / review style sites) I've decided upon a high level structure for the website.
Smart Home Sub-Product Types
Home Hubs
Smart Lights
Smart Thermostats
Smart Cooking
Smart Security
Smart Plugs
Smart Safety
Smart Home Accessories
These will be articles comparing the best products in class for different criteria, along with guides on how to install them effectively.
Smart Home Locations
Smart Kitchen
Smart Living Room
Smart Office
Smart Hallway
Smart Garage
Smart Garden
Smart Frontdoor
Smart Loft
These location pages will be broader introduction pages, linking to sub-guides for the specific product types, potentially through an interactive image that allows you to click / tap on the part of the room.
Smart Home Brands
Amazon Echo
Google Home
Philips HUE
NEST
HIVE
RING
Motorola
Arlo
Samsung Smart Things
TP-LINK
Logitech
Panasonic
These brands will form review pages, with links to brand specific guides, and lists of recent deals from certain brands.
Glossary
The glossary section will contain key definitions to help with understanding for consumers, provide us a chance of ranking for informational / knowledge graph / voice search queries, and to show Google that we're an authority on the topic.
News
As current releases and tech news is a popular part of this demographic, there will be a section dedicated to providing the latest updates. This will have to be semi-automated to make it more scalable.
Positioning & Appeal – 4th July 2018
After spending some time looking around at the industry online, the one thing that links all of the websites in this niche is that they are targeting early adopters.
The websites use futuristic imagery, colours and styles.
The products themselves have good high price points, which means that the websites also need to target people who are affluent enough to afford them.
And these conclusions have led to the mindset, colours and styles of the smart home guide website.
Colours
Matching the styles of the brands and other websites, the idea of dark blues and blacks combined with white seems to represent futuristic ideas while still remaining "un-tacky".
The logo is a placeholder for now, but keeping it plain matches the competition, and lets people focus on the content of the page.
Style
The style of the website is clean and cool, focusing on impressing people while giving them the information that they want. It matches the layout that Apple use on their website, with clean headlines, plenty of spacing, and short paragraphs of text with key information.
Imagery and video will be key with this website, and I had some great ideas from the NEST security camera page, which I think displays the product exceptionally well: https://nest.com/uk/cameras/nest-cam-iq-outdoor/overview/
The next step will be to perform some high level keyword research, determine the site structure, and then start producing content.
Niche Selection, Brand Name & Domain Name – 18th June 2018
So choosing the niche of the website and what topics it may cover is first, followed by a suitable brand name and domain name.
The niche: Smart Home Technology
The brand: The Smart Home Guide
The domain: thesmarthome.guide
Preview
This is going to be a case study on how to use ecommerce SEO to rank a new online store in Google, generate good traffic and generate sales from it.
It will be a journey style piece, with a compilation of Youtube videos and blog posts, documenting the work and progress along the way, updated from this page (bookmark it for easy returning).
You can follow the video updates as they happen, by subscribing to my Youtube channel here: https://www.youtube.com/channel/UCYRPcxay_R85XKFKUI_zpVA
More info coming soon.
Details:
Steps So Far:
Content, Links and Product Youtube Research – March 2019
Mobile User Experience & Link Analysis
Social, Schema.org, Indexing
Basic Content
High Level Structure
Positioning, Colours, Styles
Niche Selection
Preview